Browse Exhibits (1 total)
The Great Basin Indian Archives @ VHC is a collaborative digital exhibition of Western Shoshone oral histories, language and cultural resources to help revitalize the Western Shoshone language and preserve the living culture.
Defining Native Americans:
The Blood Quantum Issue
Join us Wednesday, 15 November 2017 at 7:00 pm for a public presentation and discussion of one of the most pressing issues facing Native American societies today: the continued use of the blood quantum as a measure of identity.
Since the Indian Reorganization Act of 1934, Native American tribal membership often has been tied to the blood quantum, a measure of parentage. Yet blood quantums have a very controversial history as a tool of discrimination. Join us for an engaging talk on this important but little-discussed topic as part of Native American Indian Heritage Month.
Panelists include Dr. Scott A. Gavorsky (History Professor, Great Basin College), Jens Camp (Research Associate, Great Basin Institute and California Trail Interpretative Center), and James Hedrick (Cultural Manager, Newe Ghani Cultural Center).
The event is free and open to the public, at the GBC Elko Campus GTA 130 and via IAV at GBC Centers in Battle Mountain (room BM 1), Ely (room GBC 112), Pahrump (PVC 119), and Winnemucca (GBC 124).
KNPR's "State of Nevada" Show Discusses SCLI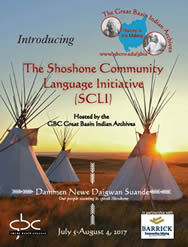 The Great Basin Indian Archives (GBIA) director Norm Cavanaugh recently discussed how the Shoshone Community Language Initiative (SCLI) is helping revitalize the Western Shoshone language on KNPR's "State of Nevada" radio program. Joining Norm was the VHC's Scott Gavorsky to discuss the GBIA Elder Oral History Project.
Listen to "Saving the Western Shoshone Language," courtesy of KNPR [external link]
In addition to students from Western Shoshone communities of Nevada and Idaho, SCLI 2017 welcomed students from New Jersey, Oregon, and California.
Semahte Wahatte man To'ainkanna (Twelve)
If you missed Semahte Wahatte man To'ainkanna (Twelve), a traditional tale of the seasons and months as performed by the 2014 SYLAP students, we are proud to present it here:
Video courtesy of the the University of Utah Shoshoni Language Project.


Event, Live Streaming, and Digital Archiving Made Possible by the Generous Support of

Any views, findings, conclusions, or recommendations expressed do not necessarily represent those of the National Endowment for the Humanities, Barrick Gold North America, or Great Basin College.